by Michaela Satterfield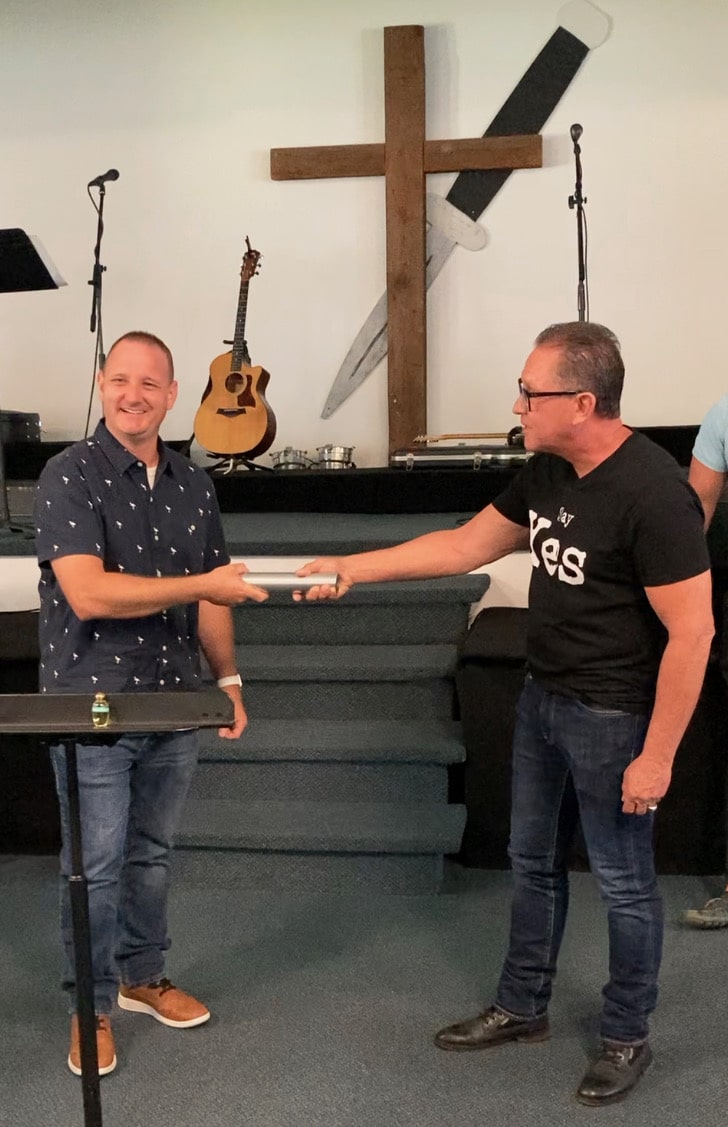 "I myself have a hard time believing there is a new guy," Adult & Teen Challenge of Sandhills' new Executive Director Russ Cambria says, "and I am the new guy."
When former Executive Director Sal DiBianca first presented Cambria with the idea of taking over for him after he and his wife Debby DiBianca retired, the size of the shoes he was being asked to fill was not lost on Cambria. He says he can't imagine Adult & Teen Challenge of Sandhills without the couple.
"I told Sal, 'You're like a North Carolina celebrity,'" Cambria says of a conversation with his predecessor. "Very humbly he laughs it off, but he knows."
His relationship with the DiBiancas began 22 years ago, when Cambria completed a six-week college internship at the center he is now leading. When DiBianca asked Cambria to pray about the possibility of taking his position, he says the timing didn't make sense initially. However, months of dedicated time seeking the Lord's will made it clear to him and his wife Jen Cambria that God was leading them cross-country from Las Vegas to North Carolina. He says he watched the Lord put all the pieces together as they made the decision to answer the call.
"My prayer is that the supporters and friends of this ministry see that God is in the transition," Cambria says.
How It All Began
Cambria's initial involvement with Adult & Teen Challenge began in 1998 when he ended up on the same dorm floor as an Adult & Teen Challenge graduate his freshman year at the University of Valley Forge in Pennsylvania, where Cambria earned his counseling degree. The program graduate, named Greg, stood out in the crowd of freshmen as he was in his 40s. Cambria says he asked Greg about his story and found out he had overcome a lifelong addiction to crack cocaine.
This began a new weekly routine for Cambria. Every Tuesday, Greg invited him to visit the Adult & Teen Challenge center in Philadelphia, near Cambria's hometown. He declined every time, until one Tuesday he finally said yes – under the condition Greg would finally stop asking him to go.
This was the attitude he walked into the center with, Cambria says, when he decided to strike up a conversation with one of the men in the program to kill some time. After seeing that the man, named Charlie, had the phrase "PURE HELL" tattooed across his hands – a single letter on each knuckle – Cambria began to wonder what he had signed up for.
Charlie's voice was quiet as he wove threads of redemption through the story of his former heroin addiction. His addiction had led him to Jesus, and he was leading Cambria to a turning point in his own faith. He says Charlie's testimony was the spark behind his decision to get serious about his relationship with the Lord. Cambria, a new Christian, had never met anyone like Charlie, who was so genuinely interested in following Christ despite his former life revolving around addiction.
"From that night forward," Cambria says, "mywhole walk changed."
Career Moves
After Cambria's college internship at Adult & Teen Challenge of Sandhills, he officially began his career in the ministry as a counselor at the Teen Challenge Training Center in Rehrersburg, Pennsylvania. He soon transitioned into leadership. Cambria spent two years as the director of the program in Las Vegas, followed by six years leading the program in Buffalo, New York.
After a ten-year break from Adult & Teen Challenge during which Cambria planted a church on the west coast, he found his way back. This time, his role was not center director, but the executive director of field operations for the ministry's national office.
In this role, Cambria worked to refine the national office's accreditation strategy. He traveled throughout the United States and Canada to conduct accreditation reviews. His responsibility was to make sure all Adult & Teen Challenge centers and staff were upholding the national standards, as well as help renew their excitement for their work.
Cambria worked closely with Adult & Teen Challenge President and CEO Gary Blackard during his time at the national office. He says he is excited about the strategic plan Blackard is beginning to carry out at the national office.
"I can grab onto that vision and implement it locally," he says. "I feel like I have backing on the national level and that the ministry's best days are ahead."
The Cross-Country Move
While in his role at the national office, Cambria received the call from DiBianca about possibly transitioning to his current role as Adult & Teen Challenge of Sandhills' executive director. He says he was not looking to transition at the time, but the Lord had other plans. A few months after DiBianca made the proposition, Cambria, his wife Jen Cambria and his daughter Claire Cambria were packing up to make the move.
Cambria says one example of the Lord's faithfulness in the transition is the ease they experienced when selling their house. The Cambrias had just purchased a new house in Las Vegas. When planning to move to North Carolina, it sold in four hours for a higher price than they had listed it.
Now that the family has relocated, Cambria says they are adjusting to life in a more rural region than they are used to. The rain they receive in the region is a change welcomed by his daughter, who grew up in a desert climate.
Cambria says the abundance of wildlife – deer walking through his front yard and a symphony of bugs loudly filling the air every night – is something he did not experience living the city life in Las Vegas. He says he even had to dodge turtles on a recent drive.
"I never in my life thought I would ever do that," he says.
Regardless of the adjustment, the family agrees they are in the right place. Not only does Cambria have history with Adult & Teen Challenge, but his wife also grew up as the daughter of a center director and personally knows the DiBiancas – she considers them to be her childhood heroes.
"Both Jen and I know the significance of what it means to come to Sandhills," he says.
Looking Forward
Cambria uses one word to answer what excites him most about becoming the new executive director – possibilities.
Currently, Adult & Teen Challenge of Sandhills consists of two centers and two offices in North Carolina. The induction center located in Kannapolis, which also serves the cities of Charlotte and Concord, is where the first phase of the program takes place. Cambria says the goal of this phase is to rescue students from their current situation. After they complete the first phase, students go to the training center located in Moore County. This is where most of the discipleship in the program happens. The admissions office is located in Raleigh and the administrative office is located in the new Concord Dream Center.
Cambria says he hopes to open more induction centers in the region, in addition to adding short-term residential programs. This will allow more students to enter the world of Adult & Teen Challenge with less fear of long-term commitment, so they can get a glimpse of the healing they could receive there. He says the hope is that those entering the induction center or a short-term program will see they need more healing and be willing to attend the second phase at the training center, where they will receive more discipleship – the ultimate goal.
The ministry is already working toward the goal of establishing a stronger presence in Raleigh and Charlotte. Beyond that, Cambria says he and his staff are expectantly praying for God to reveal even bigger goals for Adult & Teen Challenge of Sandhills to take on.
"One of the biggest changes," Cambria says, "will be not having Sal here in the region."
However, Cambria says the two have a great relationship and he will continue to serve on the board of directors for a season. The DiBiancas plan to move from North Carolina to minister in Hawaii, where their son Brandon serves as ministry executive director for Manna Church Hawaii. While they left big shoes to fill, Cambria says he is stepping into his new role with confidence. He believes – along with the DiBiancas – the Lord led him straight to Sandhills.
"The program is already set up for success," Cambria says, "and we can continue to run the race and rescue the addicted."